Permaculture Design Certificate Program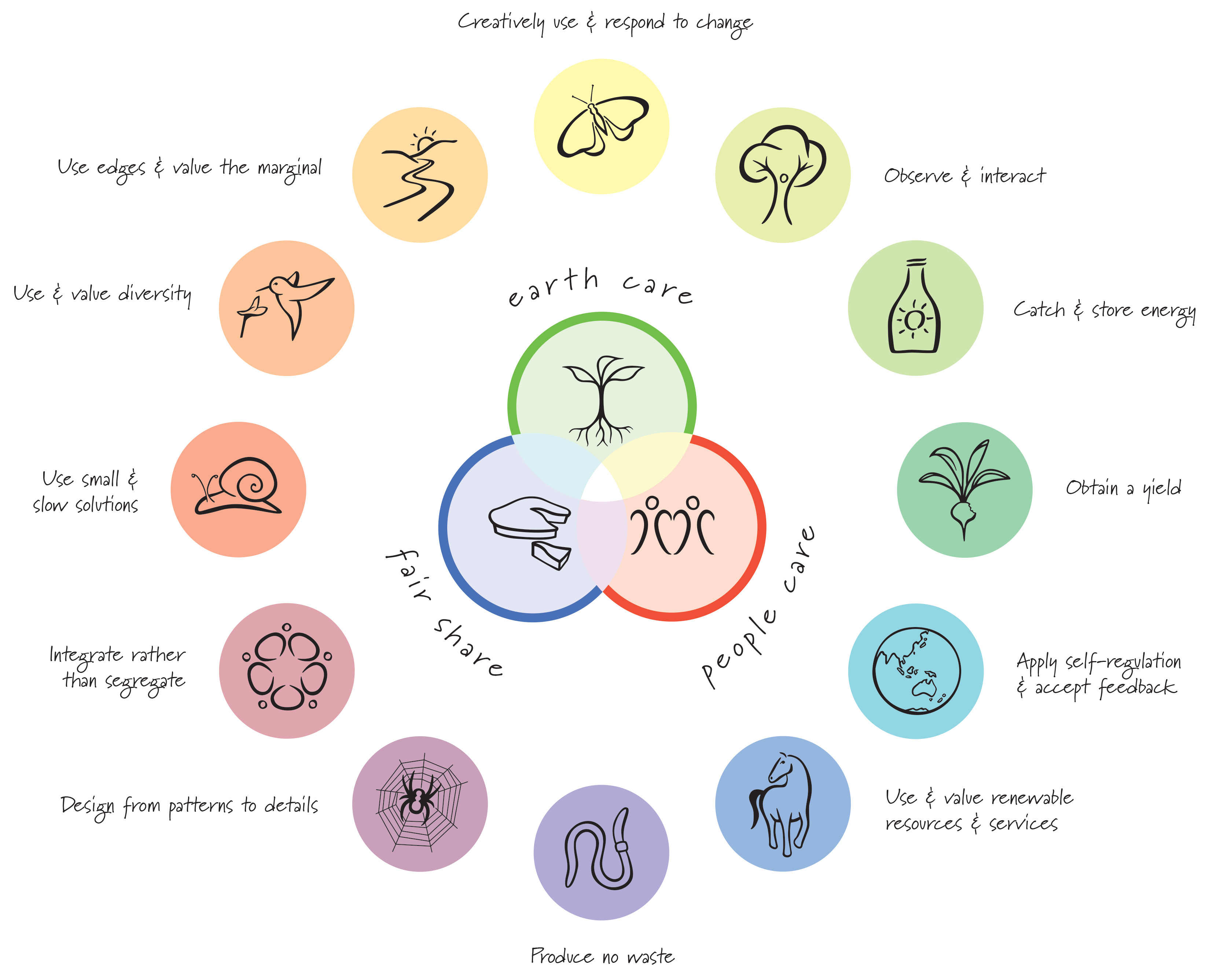 Permaculture Design Certificate (PDC) students who have passed the multiple-choice exam with 80% or above will move on to the final design assessment by completing two short learning scenarios:
Project-based Learning: Download the Permaculture Design Report template from https://tinyurl.com/y2qu3xvp. Use the template to redesign either your home or a park in your neighbourhood according to the permaculture design principles you have learnt over your 72 hours of training. Your on-line resource is David Holmgren's site, https://permacultureprinciples.com/. Your textbook resource is Bill Mollison's Permaculture: A Designer's Manual. For an exemplar of what a successful permaculture design looks like, see Midwest Permaculture's one-quarter acre site at https://tinyurl.com/yyzam6p3. You may also derive inspiration from Geoff Lawton's Permaculture Research Institute of Australia, at https://permaculturenews.org/category/design/. The absolute time limit for this project is two days, in keeping with your future clients' expectations. Remember Principle 3: Obtain a Yield, or "You can't work on an empty stomach." Create a thorough design, but limit your time designing so that you obtain adequate pay per hour. Download a copy of the marking rubric here, so you can check your own work before submitting it for assessment: https://tinyurl.com/y6z7mkby
Gamification: Download the Plant Guilds e-book by Bryce Ruddock at https://tinyurl.com/y2whx2r5 and read it. When you are ready, go to https://tinyurl.com/y2t8hzqh and play the Permaculture Plant Guilds Speed Match Review Game. Your classroom to rank your your score is

Permaculture Hamilton and your teacher is Mrs. McCuaig

. To play, drag the squares in the top gray area and drop them into the matching squares in the blue area, below. If you drop a square in the correct spot, then it disappears. If you make a mistake, then the square snaps back to its original spot. There are 25 questions in total. You must get them all right to pass, but there is no time limit. Send a screenshot of your result to your teacher.
These two assessments are authentic and realistic (
Mueller, 2018
). Graduates of the Permaculture Design Certificate Program are expected to design zoned properties for clients after a few hours of studying the land. They are expected to create plant guilds for their clients that will provide food, fuel, fertilizer, medicine, herbicides, and pesticides, customized to the type of land the client owns. These assessments require independent problem-solving, pattern recognition, and evidence-based judgement. There is no one correct answer for these assessments because no two clients will have exactly the same land. PDC students have already read extensively, and have also had 72 hours of coaching and brainstorming. These assessments require them to research and use their familiar resources independently, as they would on the job, on-site at a client's property. Graduates are expected to synthesize their knowledge to produce a self-sufficient homestead.
If the candidate is unable to produce a written report that satisfies the passing criteria on the marking rubric,
here
, then with the permission of the principal, the student will be allowed to present a scale model (diorama) for evaluation within one week.
St. Philomena School's PDC participants are adult learners. Hence, we used a learning theory specifically for adults, called
Andragogy
, to tailor the course for busy participants with competing obligations. Our assessments are fair and authentic for the permaculture designer's job. If you are interested in how we shaped these final assessments with best practise, investigate the bibliography, below:
Bibliography